Rock the Dock with Open Mic Night
January 10, 2018 @ 7:00 pm
CST
Free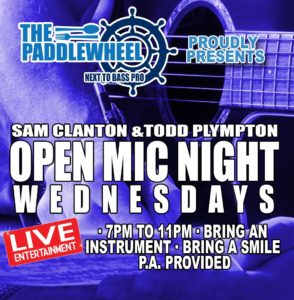 Open Mic Night!!
• 7 to 11 p.m.
• Bring an instrument
• Bring a smile
• P.A. provided
ABOUT:
This night is meant to be an outlet of creativity for area singers, songwriters, musicians and performers. People of all ages and talent levels are welcome to participate! Open mic runs from 7 to 11 p.m. and the order is determined by the hosts, Sam Clanton and Todd Plympton, on a first-come, first-served basis, so please show up early to secure a slot.

The p.a. gear, including microphones and cables, are provided. Please bring your own instrument and be prepared to sing/perform up to 3 or 4 songs. If you would like, the hosts are available to back you up during your performance, or you can network with other musicians for accompaniment.
Original music is supported and highly encouraged! Play what you want, but please keep in mind the Paddlewheel maintains a family-friendly atmosphere, with minors welcome, until 9 p.m.
Spoken word artists and visual artists will not be excluded! Let us know if you want to tell a story, read a poem, share a few jokes or even perform a magic trick. We're open to it!
HOST BIOS:
Sam Clanton and Todd Plympton are long-time collaborators in numerous musical projects, bands and open mics in the Branson area, including most recently hosting the open mic at the Black Horse Pub in Hollister.
Sam Clanton is a singer-songwriter who plays guitar, mandolin and harmonica in several bands in the Ozarks, including Whiskey Brothers, Jam McClanton, Salmon Alley and The Scapegoats. He is passionate about music and loves bluegrass, jazz and indie rock in particular. Sam is also a radio announcer and news writer for MY100.1, 106.3 KRZK and 102.9 The Z.
Todd Plympton plays upright and electric bass, and is known to pick a banjo on occasion. With a background steeped in the blues, Todd has performed with many notable artists over the years, including touring and recording with Jimmy Thackery & The Drivers, and even backing up blues legend Buddy Guy. He plays in several area bands, including Ripple Effect, Eire & Brimstone, Ambrielle Trio and Blowcephus.
Clanton & Plympton are a TON of fun… Please join us!
For more information, contact Sam at 417.239.6128 or [email protected] Contact Todd at 417.593.9180.