Have you been down to Main Street Marina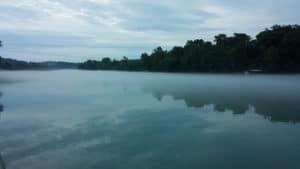 since summer has started? Summer, so hot and humid, changes down on the Paddlewheel once the sun goes down. Lake Taneycomo is kept at 50° because the water that feeds Lake Taneycomo is directly off the bottom of Tablerock Lake. This makes Trout fishing amazing and helps to cool the breeze coming off the lake. Because of that, the air down on the lake is cooler than anywhere else in Branson. Sometimes you'll see a fog arise from the surface of the water and when that fog comes across the Paddlewheel, you hear an almost audible "ahhh" from everyone as the cool envelopes the area. But we also have fans going to keep things comfortable at all times.
But just because we're trying to cool ourselves down, doesn't mean we don't want to heat up the party! Most days of the week, you can find live music from our open mic night to DJ's to local and regional bands, the music…rock & roll, country, soul, pop, latin…it's all here! We have something for everyone! The drink features and the menu is always amazing. There are so many specials during the week; we want to Rock the Dock… Not your wallet!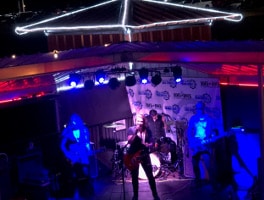 Have you ever wondered why we say "Rock the Dock" at the Paddlewheel? If you have, then you haven't been here when dancers crowd the dance floor because our dock literally rocks. You can feel the gentle, well, sometimes not so gentle, movement as the dock moves. It announces…the party is ON!
There is no better place to enjoy the water and the best Branson has to offer than at The Paddlewheel on Main Street Marina.
We look forward to seeing you soon!