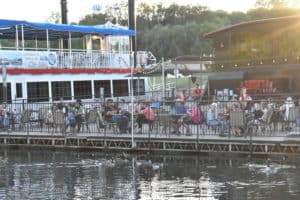 It happens all the time. When people that come from somewhere else and spend time with us dockside we get some very similar questions. Is this a lake or a river? What river are we sitting alongside? Why do they call this a lake when it looks like a river? We thought this would be a good place to explain some of the mystery of the picturesque and river (or lake) in Branson, Missouri.
History of Lake Taneycomo
Lake Taneycomo is a man-made lake or reservoir created from a section of the White River in Taney County Missouri. The name of the river comes from that county that it is located in. From the early 1900s to 1958 the lake was a warm water lake. Once Tablerock Dam was completed in August 1958, the source of Lake Taneycomo came from the bottom of Tablerock Lake. From that time onward, the lake has remained a fairly constant 50ish degrees. As you can imagine, with this change, swimming near the Rockaway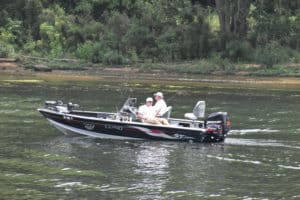 Beach area declined and many of the tourists wanting to get into the water instead moved toward other activities in Branson. Swimming in a cold water lake just wasn't desirable.
Fishermen soon found that the chilly waters of Lake Taneycomo became a premier location for Trout fishing. Whether you prefer fly fishing or other methods, you will be hard pressed to find a more suitable location to catch Trout. With the completion of the Shepherd of the Hills Fish Hatchery in 1957, Lake Taneycomo became one of the best year-round locations for Trout fishing. No matter the time of year, it is rare to find the lake deserted of fishermen.
The best of a river and lake aspects are included in Lake Taneycomo. It has become a terrific location for fishing, hiking, boating, sightseeing, and many other activities.
See it all Unfold at Main Street Marina
The beauty of the Ozarks comes to life at Main Street Marina! Get off the dock and out on the water with Main Street Lake Cruises. Sightseeing and Dinner Cruises give you an opportunity to see the history as it unfolds in front of your eyes while one of our Captains tells you about the lore of the area.
If you just want to get out by yourself or with a few close friends or family Main Street Water Sports Rentals may be just what you're looking for. We can get you on a Paddleboard, Hydrobike, Kayak, or Craigcat Motor Boat, to get around the lake in the manner you would prefer.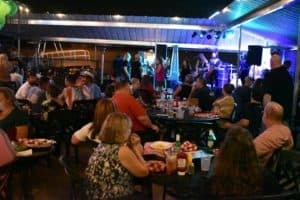 If you are looking to stay on the dock, check out The Paddlewheel. There is always something fun going on for you to enjoy with family and friends. Check out our amazing menu. Great food made for you in our scratch kitchen and delicious drinks created by our bartenders are there at a moments notice. Our friendly staff is ready to show you a bit of that Ozark hospitality that has become so popular.
If it's nightlife you are after come out and Rock The Dock as many others do every evening as The Paddlewheel becomes Branson's LARGEST Nightclub! There is no better place in the area to unwind!
Don't just take our word for it. Come out and see for yourself why everyone is talking about this amazing spot on Lake Taneycomo. The spot where locals come and visitors always want to come back to. We look forward to seeing you!