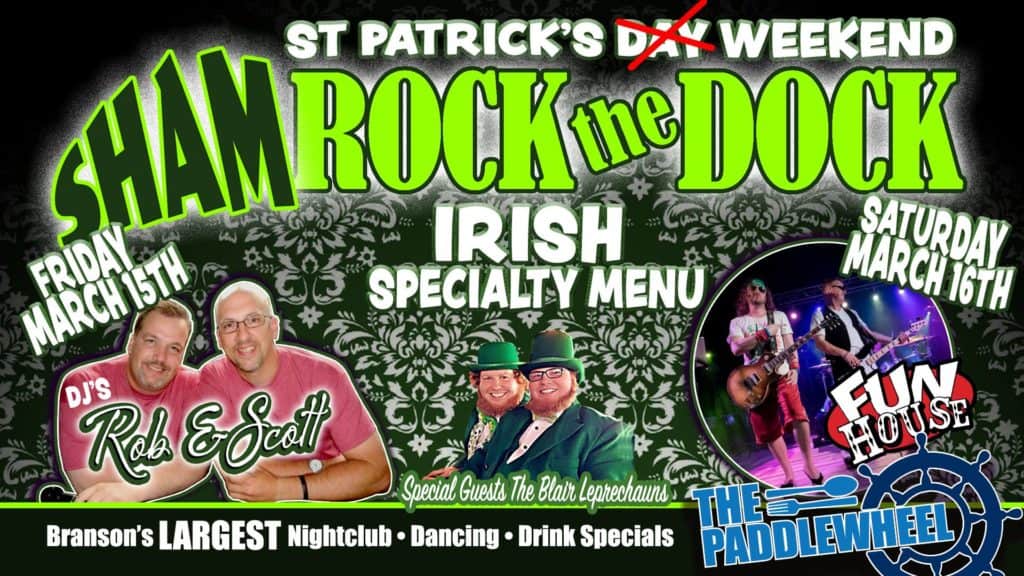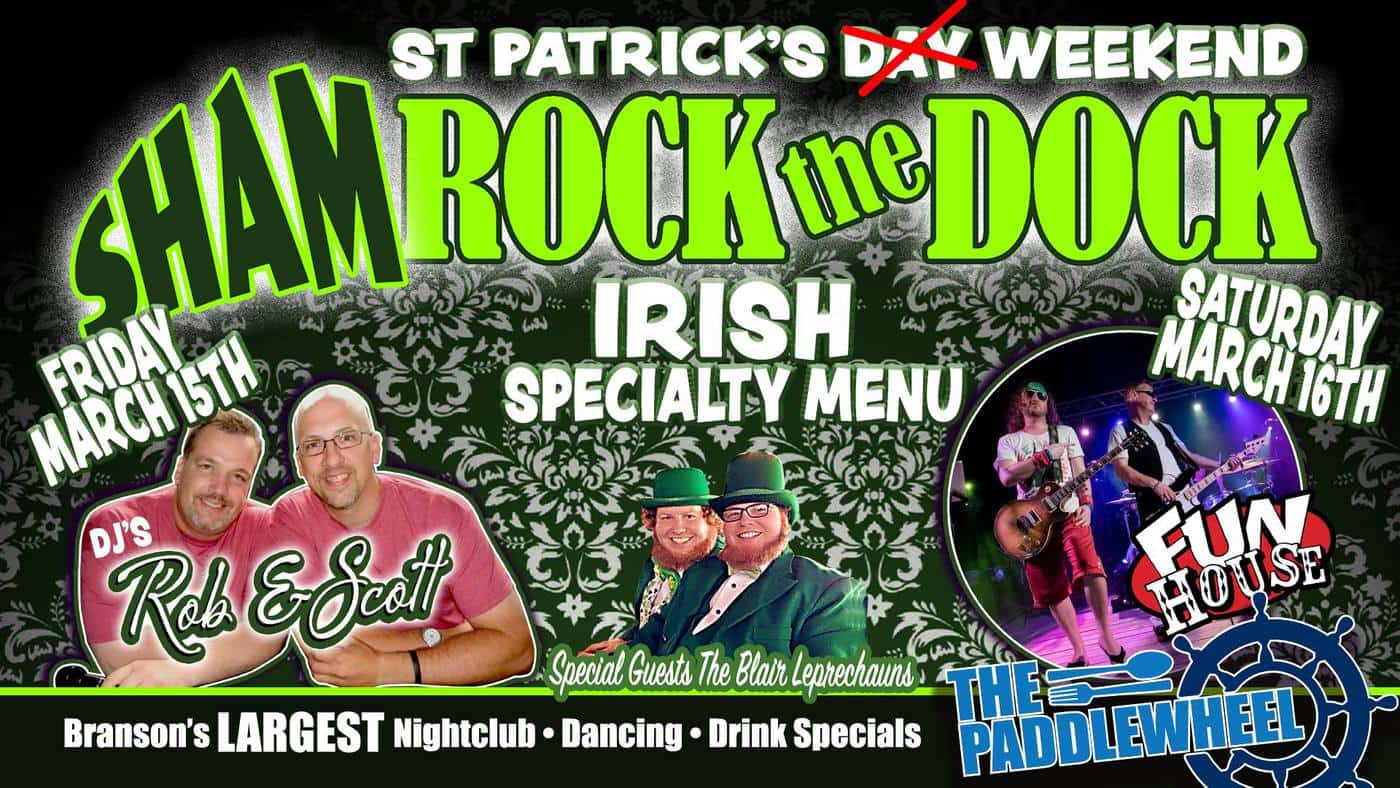 Branson's LARGEST Nightclub is throwing a party so big, for St. Patrick's Day weekend that is, so BIG, it's going to take two days! SHAMRock the Dock has become one of the biggest celebrations in the area over the last few years and we are looking forward to seeing you at The Paddlewheel on Main Street Marina!
There will be a specialty drink and food menu, and Guinness Stout will be on tap along with other great local options. We will have a Photo Booth to catch all of those awesome memories. There will also be an appearance by those lucky little Blair leprechauns. But hey, size doesn't really matter.
We have a great line up for entertainment over the SHAMRock the Dock weekend. Friday the 15th, we will feature DJ's Rob and Scott. These guys are always a favorite when they come out to the dock. Saturday the 16th will include Fun House; one of the most popular bands in this region! There is always plenty of room on the dance floor for you and your friends.
At the Paddlewheel, we enjoy the rich history St Patrick's Day has in the United States. We are happy to be a part of that tradition.
ST. PATRICK'S DEATH & THE FIRST ST. PATRICK'S DAY PARADE
Saint Patrick, who lived during the fifth century, is the patron saint and national apostle of Ireland. Born in Roman Britain, he was kidnapped and brought to Ireland as a slave at the age of 16. He later escaped, but returned to Ireland and was credited with bringing Christianity to its people. In th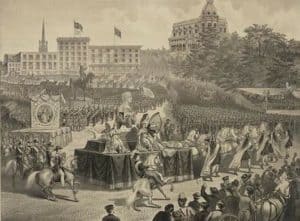 e centuries following St. Patrick's death (believed to have been on March 17, 461), the mythology surrounding his life became ever more ingrained in the Irish culture: Perhaps the most well-known legend is that he explained the Holy Trinity using the three leaves of a native Irish clover, the shamrock.
Since around the 9th or 10th century, people in Ireland have been observing the Roman Catholic feast day of St. Patrick on March 17. Interestingly, however, the first parade held to honor St. Patrick's Day took place not in Ireland but in the United States. On March 17, 1762, Irish soldiers serving in the English military marched through New York City. Along with their music, the parade helped the soldiers reconnect with their Irish roots, as well as with fellow Irishmen serving in the English army.
America is filled with many amazing traditions for St Patrick's Day, including dyed green waterways, and fabulous parades. Even if you don't have any Irish heritage, many just enjoy their short-lived Irishness once a year.
---
It's going to be an amazing weekend! Get your green garb together and call your friends and tell them you wanna SHAMRock the Dock! Plan to make a weekend of it. We are looking forward to seeing you!