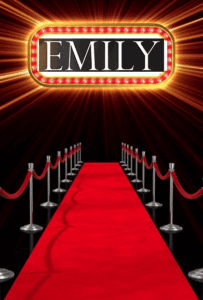 The Branson area is often associated with great musical talent. However, truth be told, this area has become a location for all sorts of artists with various talents to thrive. At the end of this month, The Paddlewheel on Main Street Marina is giving you an opportunity to experience an example of that talent. On October 28th, starting at 7 PM, there will be a screening of the movie "Emily" on the 200-inch screen in the TV room. This screening will come to you before it premiers and before it hits the Indie circuit. This film will run in succession throughout the night and there will be a question and answer time after the 9:00 showing of the movie.
About Damian Costello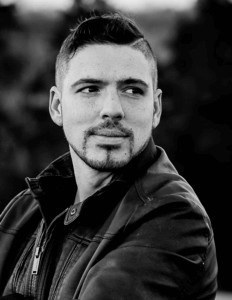 Damian Costello was born 'Damian Porfirio' on March 15th, 1988 in Knoxville Tennessee. Costello has lived a very interesting life, on cruise ships as a musician, and as a film and stage actor, and running his own production company. Costello worked on his first cruise line (Norwegian Cruise Lines) as a drummer at the age of 15, and continued to do so until age 20 when he moved to Brazil in 2009. He moved with hopes of finding something new in life, and wanted to start fresh in a new place, but soon realized that the Midwest in the United States was where he belonged. While in Brazil, he worked in what he calls a 'Warzone' in Sao Paulo, fighting drug and crime cartels with a vigilance squad (Policia Civil SP). He earned his Bachelor of Science in Business Administration degree while in Brazil, but when things got too crazy, he moved back to the USA in 2016. Costello said "It was like a movie, and I was method acting in a major role" when he speaks of the things he saw in Brazil. "It's time to make actual movies now, without the risk to my life", he said in a recent interview.
Costello started in Branson, MO in 2016 with the Branson Murder Mystery, and then the Pierce Arrow Total Comedy Hour with Tony Turner and James Sibley. He then started booking TV commercials and local film, and then to feature films, National TV, and many other gigs that he loves. You can also find him on The Polar Express (Branson Scenic Railway ) as the "Hobo" doing live-action improv comedy.
About The Movie "Emily"
One of Damian's shoots with Costello Films had been canceled and he decided he wanted to put together a quality film in less than 2 days. he created a Facebook chat group and invited over 30 people with the initial message,
" I want to make a short film this weekend, just for fun. Full professional acting, directing, and quality. If I've added you to this group, that means I hope you can make it! Any takers?"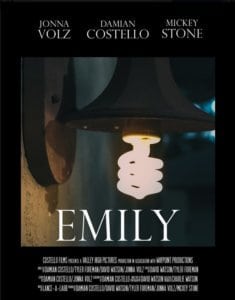 From that message, he was able to connect with David Watson, award-winning cinematographer, along with Tyler Foreman behind the camera. Charlie Watson came on board as Executive Producer as well. Along for the ride came Kyle Wolf and local actor, Tim Grassi. Damian was excited to have such a talented team to help him create this film over such a short period.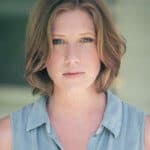 When Jonna Volz realized that Damian has signed such a great production team she said she would be on board with the request that she could work on something challenging. Like domino's, having heard that Jonna was on board, Mickey Stone jumped into the mix.  With such a great cast Damian was excited to get started.
Damian wrote a screenplay based on the ideas of the cast and crew. He set up some characters and a few backstories, and then set the film date for July 15th, 2019. The film was shot in 2 working days, followed by a few weeks of incredible coloring and editing by David Watson and Tyler Foreman.
The movie has a fantastic score by Lance Laub (Lance-A-Laub) who, along with Damian, worked on several films, including "The Cure" and "Vincent's Vow".
There was a surprise ending created by the film team that Damian didn't even see until post-production. They liked it so much it landed in the film. We don't want to give it away; you are just going to have to come out and experience it all yourself.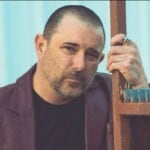 "Emily" at The Paddlewheel
"Emily" was the result of a group of full-time professional filmmakers getting together to just have a great time with the craft of movie making. We contacted the Paddle Wheel looking for venues to screen the event, before setting up any premieres or sending the film to any festivals. They approved the film and it is now set for screening on Monday, October 28th, 2019 at 7 pm, 8 pm, 9 pm with a Q&A and 10 pm for a final viewing of the film.
Come out to the Paddlewheel and get a first look at a great movie created by talented people from this area. We are excited to offer this opportunity and we hope to see you on the dock for the screening.  There is a lot of great talent around you here in the Ozarks. Join us and help support local artists.