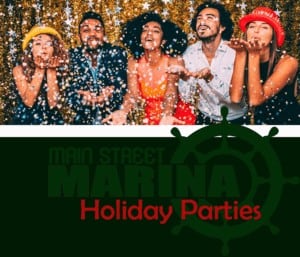 Main Street Marina offers the perfect location for your holiday party regardless of what you are looking for. Because there are so many options, we can tailor the right fit for you and your office or organization.
Whether you want your party on the dock or out on the lake, we have many opportunities for you. Check out these amazing options that you can mix and match to create the perfect party experience for your group.
Tons of Holiday Party Options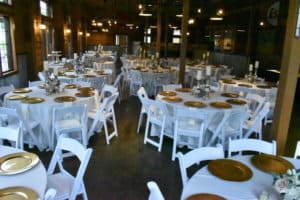 If you have a larger group look at one of these options. The Main Street Maina Event Center gives you the ability to host a party for a little over 200 people. If you want a beautiful sit-down dinner or banquet we have you covered. Our scratch kitchen and professional staff will make sure you have everything you need for this special occasion. If a cocktail party is more what you are looking for, we can set up a bar facility with creative mixologists to make those amazing party drinks you'd enjoy that will liven up your evening.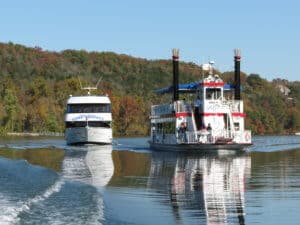 If getting out on the water is what you desired, we have that available to you here as well.  Have an amazing dinner or sightseeing cruise on our 100-foot yacht, The Landing Princess; or on out vintage style Paddleboat, The Lake Queen.  Both are equipped with full bars and climate-controlled decks for your convenience. The Landing Princess is the perfect place to host an opulent dinner cruise that folks will remember fondly for a long time to come. Let our friendly and professional staff with Main Street Lake Cruises take care of you and free you up to enjoy those around you.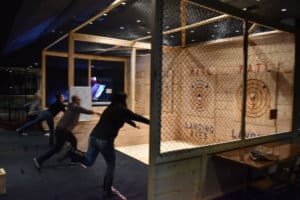 Would you like to add a team-building activity to that special party? We have a great option for you with Landing Axes. Throwing axes is more popular than throwing darts and is cheaper than going bowling. The best part is that virtually anyone can become comfortable with it quite easily. It's a really good time and we have great folks to teach you how to do it.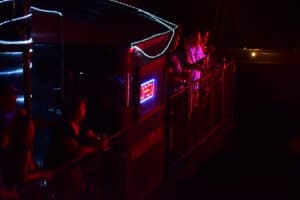 If you want to have something special that makes your group a part of the action consider having your party at The Upper Deck at The Paddlewheel. It's a perfect spot for an intimate dinner or cocktail party that gives your group the opportunity to participate in the entertainment that is featured as part of Branson's LARGEST Nightclub! Rock The Dock happens every weekend and on most weekdays. The Upper Deck is a private location upstairs and gives you the ability to be a part of the fun without being out in it. Unless, of course, you want to.
Extra Holiday Party Features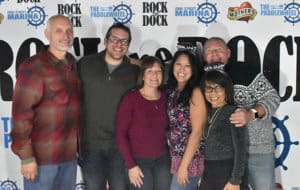 If you would like live entertainment at your private event on the dock, we have a wide variety of options for you. We have DJs, and musicians that work with us to help make that party ROCK! How about a photographer? We have that a professional photographer available as well to provide a photo booth or take pictures of your event. We even have a room with a 200-inch television to give you additional options for your party! If there is something special you need, don't hesitate to ask.
Book Your Holiday Party Today
What are you waiting for? Call us right now at 417-239-3980 or contact us online to get the ball rolling on your perfect holiday party! Dates are filling quickly, so you will want to lock in your party dates soon! We look forward to helping you make your occasion the best ever!