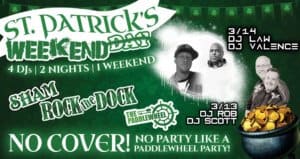 Branson is always a great place to be for St. Patrick's Day! The weather is starting to warm up and this is a great excuse to get out and enjoy it. Over the last several years The Paddlewheel has been the place to be for the holiday.
It's a party that is just too BIG to do in one night; so, The Paddlewheel at Main Street Marina will stretch the shenanigans out all weekend long! That's right, SHAMRock the Dock is going to be a whole weekend event that you are going to want to be a part of.
It's a big weekend being made even bigger with 4 great DJ's and Branson's biggest dance floor ! Put on those green dancing shoes and get ready to bring your best dance moves two nights straight.
St Patrick's Day is always a great time at The Paddlewheel and this weekend is going to be another great example of why we have become Branson's LARGEST Nightclub.
SHAMRock The Dock Weekend
If you come out Friday the 13th you will have the awesome combination of DJ's Rob and Scott from SRM Productions. They always bring a great show with them and an amazing mix of tunes you'll love.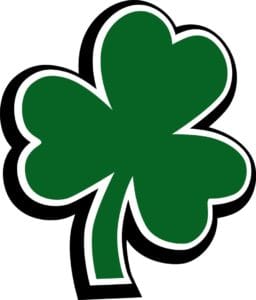 Saturday the 14th will also be awesome. DJ's Law and Valence will be doing a combined show. It's going to be an awesome evening. These two great personalities will be combining forces to bring you a memorable night. In addition, we will have a Photobooth set up for you as well.
There will be a special menu for the weekend put together by the folks in our "Specialty Scratch Kitchen" with awesome items tailored for the weekend. With our professional mixologists you know the specialty drinks will be fabulous.
St Patrick's Day
Tuesday, March 17th Tyler Garoutte will Rock the Dock on St Pat's! It's going to be a great night to be on the dock! It's going to be a great night to relax on the banks of Lake Taneycomo and listen to great music!
---
Make your plans now because it's going to be an amazing time! See you on the dock!