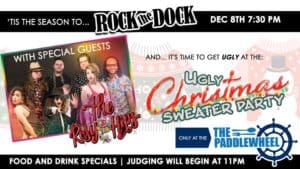 Sometimes you need to take Rock the Dock up a notch! This Saturday, December 8th is one of those nights! Here at The Paddlewheel, we will be having our Ugly Christmas Sweater Party and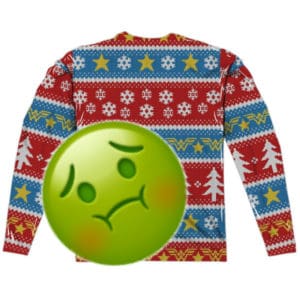 it's gonna get crazy! We intend to heat up this December night with great food, awesome drinks, amazing music, and a whole bunch of you in crazy Christmas sweaters!
What's Goin' On
You don't need to make dinner plans anywhere else because The Paddlewheel has that covered. There is always great food and drink features your crowd is going to love! The Rosy Hips are going to be playing Saturday night at 8 and if you haven't heard their upbeat modern style just get ready. That thing they do is gonna make you want to get up and get out on the dance floor. They will Rock The Dock just right!
There will be an Ugly Christmas Sweater contest at 11 PM. There will be prizes in different categories given out by our celebrity judges. Get ready to flaunt those hideous threads! Don't stop there though, we will have a photo booth as well to make sure you have plenty of shots so you will have memories to hold onto. It's going to be a great time!
We Cut Through The Cold at The Paddlewheel
There is a ton of space inside, but it's nice outside as well. There are so many firepits for you to gather around with your friends! The Paddlewheel on Main Street Marina is the perfect place to be every weekend! Let's be honest, the weekdays are pretty awesome too. There is no better place to be in Branson, Missouri! Just because the weather changes doesn't mean we forget how to party when it gets a little nippy!
Upcoming Events at Main Street Marina
We look forward to seeing you Saturday, but we also have a lot of great events coming up for you to mark your calendars for. This New Year's Eve we have some great things coming up. Make sure you check out our calendar! We will be partying at The Paddlewheel as well as an exclusive New Year's Eve cruises on the Landing Princess. Give us a call at 417-239-3980 if you have any questions regarding our upcoming events.
If you don't have all of your Christmas gifts we have that covered for you as well. Find out about our Cruise Gift Certificates and Paddlewheel Gift Cards as well.
We look forward to seeing you and your ugly Christmas sweater really soon!