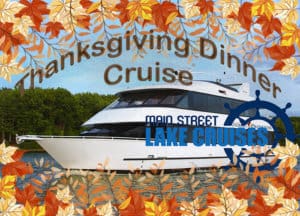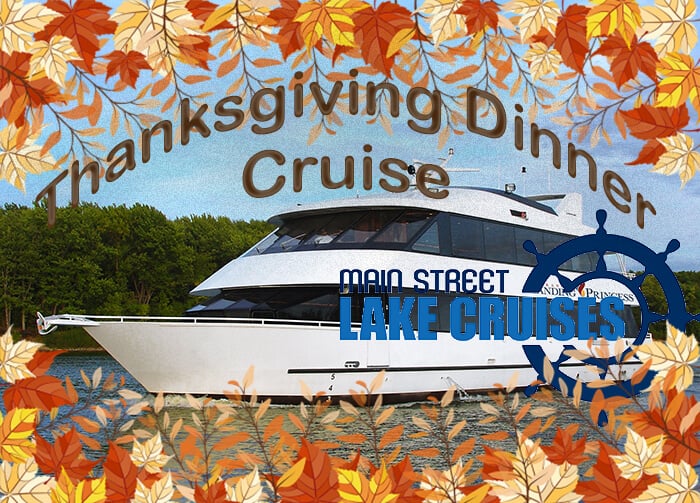 A very common question this time of year is always what establishments are open for Thanksgiving Dinner. With so many people coming into town, or still in town, it stands to reason that not everyone wants to cook dinner. Each year that passes some folks find themselves with free time and have the ability to do something different this  Thanksgiving. Take a dinner cruise on the Landing Princess with Main Street Lake Cruises Thursday, November 28th with two convenient times. Enjoy an amazing meal and the beauty of the Ozarks.
We Do It All For You
Have you ever felt as if you'd like to take a break from cooking Thanksgiving dinner? Are you going to be in town in Branson and would like to do something special for those loved ones close to you? Well, you don't have to think any further than a trip down to the dock at Main Street Marina to step onboard our 100-foot luxury yacht located on scenic Lake Taneycomo, The Landing Princess. Turkey with all the trimmings and a view of the ever-changing scenery of the Ozarks unfolding right in front of you. It's a beautiful opportunity to build memories that will last a lifetime.
Thanksgiving Day Cruise Menu:
Turkey Breast
Honey Glazed Ham
Homemade Cranberry Sauce
Stuffing
Mashed Potatoes with Gravy
Green Beans
Pumpkin Pie
*If you have special dietary needs please contact us at 417-239-3980 to let us know what we can do to alter options for your needs.
There is also a full cash bar that will be available. We will have wine, beer, and spirits available to you to add to this amazing dinner experience.
There are two cruises. One will board at 1:45PM and the other at 4:15 PM and will be one and a half hours in duration. These cruises are also handicap accessible and both decks are climate controlled.
Reserve Your Seats Today!
Seating is limited on these wonderful cruises so make your reservations now. You may contact us by phone at 417-239-3980 or book online here! Please don't hesitate to contact us if you have any questions regarding our Thanksgiving Dinner Cruises.
We look forward to the opportunity to have you aboard and look forward to meeting you!