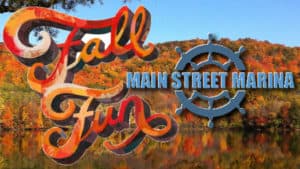 As the leaves change and we creep into the Autumn season in the Ozarks things will change up at Main Street Marina as well. We have so many great things planned for the next few months, you will not find a shortage of things to do on the dock. As Fall approaches so do a bunch of great activities for everyone to take advantage of.
Main Street Lake Cruises
The changing of the leaves in the Branson area brings in so many people that want to peek at the colors that emerge for several weeks and there is no better way to se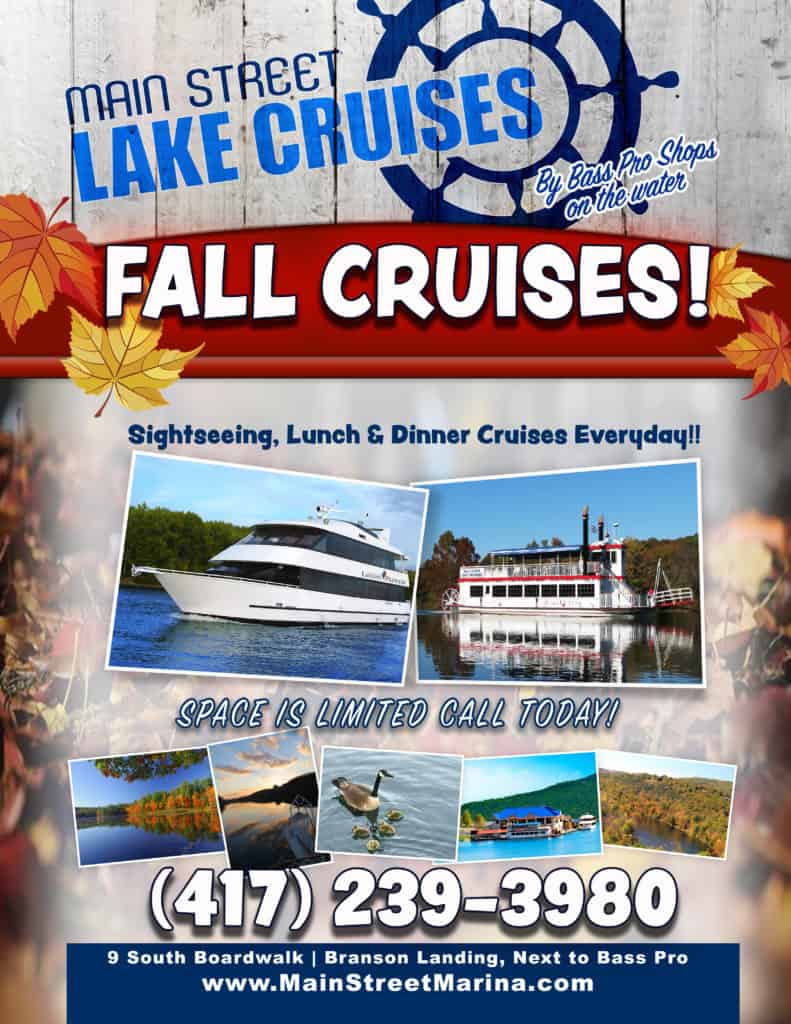 e this than on Lake Taneycomo. Main Street Lake Cruises at Main Street Marina is featuring its Fall Cruises designed to feature the beauty of the area and the flavors of the season that make this time of year so popular. Take a sightseeing cruise on the Lake Queen featuring almost two hours of the most amazing scenery you will see in the Ozarks. Our Captains will tell you about the area while you take in the beauty surrounding you.
This vintage style paddle boat resembles the boats that so often moved through the waters of the White River Basin of days past. meals will be provided upon request. Please talk to your representative about the features offered to make your trip special.
Step aboard our 100 ft luxury yacht, The Landing Princess, and pamper yourself and those important to you for a couple of hours. Aboard the Princess, you will be served a delicious meal while our professional staff takes care of you. We have a full bar on each level to make sure you have your favorite drink with your meal. Would you like a special bottle of wine for your table? Your representative will be happy to help you with that as she gets you booked for your special dinner cruise. Take in the Branson Landing fountain show from a totally different perspective when you sail with Main Street Lake Cruises. We will give you memories that will last a lifetime.
Stay tuned for great information on our fabulous Thanksgiving Dinner Cruises! The Anchor will be telling you about this soon. It's going to be a great opportunity for you to enjoy something different with loved ones during the Thanksgiving season.
The Paddlewheel
Whether you have just been on a cruise with us or are coming for dinner on the dock, The Paddlewheel is the perfect place to enjoy delicious handcrafted coc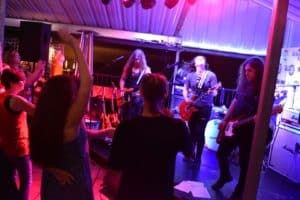 ktails and delicious meals and snacks tailored to every palate. Entertainment is offered during the week and on weekends for you to enjoy dockside while you take in the nature surrounding you.
Taco Tuesday is over for the season, but there are going to be taco specials offered throughout the season to take care of the withdrawals you get from that taco craving you may have. For those working in the Branso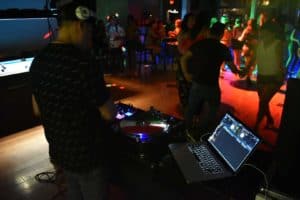 n Area make sure to come enjoy Industry Night every Tuesday. Great drink specials are offered for those that work so hard in the area to take care of the important guests that visit Branson.
Live Bands and DJ's play throughout the week. The Paddlewheel is the hottest night spot in the Branson area for a good time. Come out and put on your Lake Attitude and Rock The Dock with us!
Party Time
Coming October 2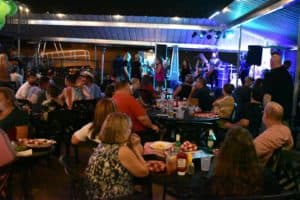 0th, we will be having an 80's Dance Party featuring The Banned and their tribute to those days of Aqua Net and Leg Warmers. Put on those 80's outfits you have in mothballs and share your 80's pride with us as we Rock the Dock 80's style.
In addition, stay tuned for information on our BIG Halloween Blowout. This party is going to be so amazing it's going to take a whole weekend to do it Justice. We will have info on that soon!
Main Street Marina is the place to be this Fall and we are looking forward to welcoming you aboard!