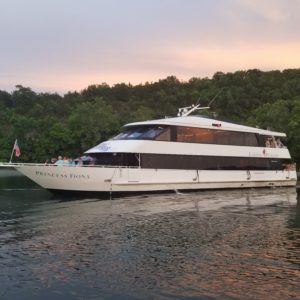 One of the most amazing places to be in the Ozarks is on Tablerock Lake in Branson, Missouri. Every season is full of beauty and history and there is no better place to observe this than from a luxurious dinner cruise aboard The Princess and Main Street Lake Cruises.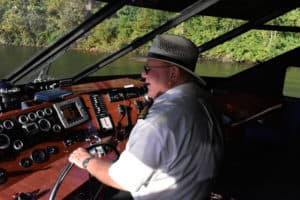 The Landing Princess is a 100-foot long luxury yacht located at Main Street Lake Cruises on Main Street Marina. Located a bit down from Bass Pro Shops at the Branson Landing, Main Street Marina is the best place to view the beauty of the area dockside, or on one of our amazing cruises. Our Captains will guide your way and tell you about all of the rich history that the Ozark Mountains are famous for.
Your Two Hour Dinner Cruise
As you step aboard you will be seated on one of our two climate controlled decks that allow you access to beautiful views as well as a fully stocked cash bar on each deck. Our friendly and professional staff is always ready to take care of you on your cruise. You'll be greeted with a smile and treated to a delicious menu created especially for you and those you hold dear.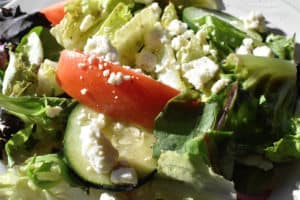 You will be served a three-course meal prepared by our chef. Each meal is prepared with fresh ingredients, from scratch, that is certain to delight even the most discriminating palate. Paired with a glass of wine or handcrafted cocktail from our bar will finish out your experience nicely.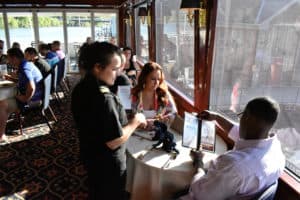 We are dedicated to giving you memories that will last a lifetime. Please ask your representative about the special options we have available to accentuate any special occasion for your party. If you would like a special bottle of wine or flowers for something special, please ask about how we can provide those items for you.
Group Events and Charters
Do you have something coming up that you want to make a lasting impression with? Main Street Lake Cruises can make your business meeting, reunion, or wedding event special. We can accommodate large groups and have the ability to host private or semi-private events. Ask our representatives about what options are available to you.
Celebrate the Holidays With a Special Cruise
Whether it's Thanksgiving, New Year's Eve, Easter, or any other holiday, chances are there is a special cruise designated to celebrate the occasion. The truth is, we like to party, and we want you to join us. Check out our calendars below to see what event works for you.
---
We look forward to seeing you soon! Please contact us at 417-239-3980 if you have any questions. We look forward to meeting you!