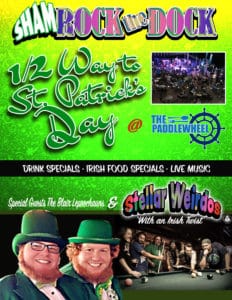 St. Patrick's Day at The Paddlewheel was a complete blast earlier this year! If you weren't able to make it we had an amazing time, and you were missed. With this being said, those of us at Main Street Marina got so excited about it, we are going to start next year's party early at the halfway point to St. Patrick's Day. We are inviting you to ShamROCK THE DOCK with us on Saturday, September 8th!
ST. PATRICK's Death AND THE FIRST ST. PATRICK'S DAY PARADE
Saint Patrick, who lived during the fifth century, is the patron saint and national apostle of Ireland. Born in Roman Britain, he was kidnapped and brought to Ireland as a slave at the age of 16. He later escaped, but returned to Ireland and was credited with bringing Christianity to its people. In the centuries following St. Patrick's death (believed to have been on March 17, 461), the mythology surrounding his life became ever more ingrained in the Irish culture: Perhaps the most well known legend is that he explained the Holy Trinity using the three leaves of a native Irish clover, the shamrock.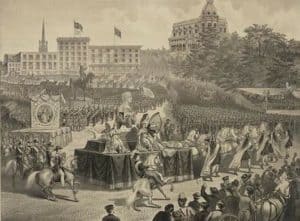 Since around the ninth or 10th century, people in Ireland have been observing the Roman Catholic feast day of St. Patrick on March 17. Interestingly, however, the first parade held to honor St. Patrick's Day took place not in Ireland but in the United States. On March 17, 1762, Irish soldiers serving in the English military marched through New York City. Along with their music, the parade helped the soldiers reconnect with their Irish roots, as well as with fellow Irishmen serving in the English army.
The Paddlewheel Continues That Tradition
The Paddlewheel has become one of the most popular places to gather in Branson. There is no better place to enjoy the beauty of the Ozarks and make memories with friends and loves ones. We will feature Stellar Weirdos (With an Irish Twist) to set the mood with great music. In addition, we have put together a special menu for our Halfway to St. Patrick's Day party filled with great Irish food and drink specials. Keep your eyes peeled; there may be a visit from a leprechaun or two.
We love throwing a great party and it is always better when you are all here enjoying it with us! Please mark your calendars for an amazing day to mark the halfway point to St. Patrick's Day.
We look forward to seeing you at The Paddlewheel on Main Street Marina